Horizon, Piano Black with Gold Tube Lugs
Horizon Honey Maple Gloss
Horizon Translucent Blue with CD Maple Kick and 15" Floor Tom
Horizon Honey Maple Oil With Matching Snare
Horizon Matte Black With Black Chrome Hardware
Horizon Honey Maple with Tube Lugs
Horizon Gold Sparkle With Black Chrome Hardware
Horizon Matte Purple Burst with Wood Burn Logo
Horizon Silver Hematite Burst
Horizon Gray Gloss With Black Chrome Hardware
Horizon Honey Maple with Gold Tube Lugs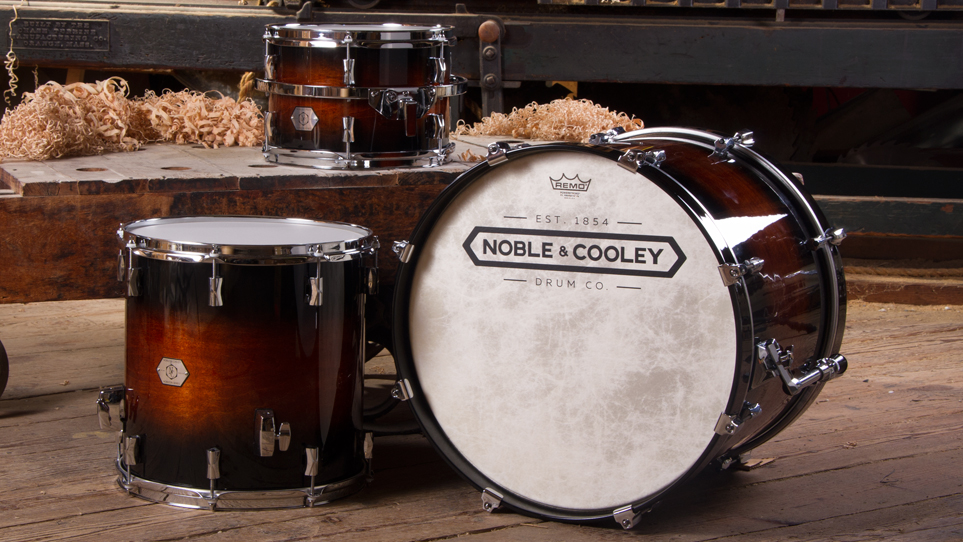 Horizon Honey Maple Burst
Horizon Hematite With Wood Hoops
Horizon Honey Maple Gloss with Fiberskyn Heads
Horizon Purple Black Burst
Horizon Maple with Wood Burn Logo
Horizon Matte Black with Wood Burn Logo
Horizon Cairo Blue Sparkle with Wood Hoops
Horizon, Tangerine Sparkle
Horizon, Dark Honey Maple
Horizon Honey Maple Burst
Horizon Black Cherry Burst
Horizon Matte Black & SS Classic w Horizon Hardware
The best of both worlds - vintage tone with modern drum build quality.
The Horizon Series is the original modern hybrid shell design, so highly sought after in today's drum community. Unlike traditional cross plies, the horizontal orientation allows the shell to resonate more uniformly, like a steam bent shell. The softer inner ply of mahogany adds a dark tonal quality creating a vintage tone while maintaining the sonic fidelity associated with the Noble & Cooley name. Originally introduced in the 1980s and used to create the samples for Vintage Superior Drummer, these drums became legendary. We responded to customer interest in vintage tones and recently introduced a revitalized version for today's drummer. With updated lugs, enhanced venting, CoolMount brackets and new finishes, these kits will satisfy the most discerning drummers.
Hybrid Maple and Mahogany Ply Shell
Horizontal construction
All Toms include Rims style suspended with the patented CoolMount system
Your choice of Evans, Remo or Aquarian Heads
2.3 mm Triple Flanged Hoops or optional die cast or wood hoops (additional costs may apply)
Your choice of chrome or black chrome hardware
All of our drums are hand finished, not wrapped, with oil, stain or paint
Horizon KiT Demo 1
Click video to play.
Horizon Kit Demo 2
Click video to play.
Horizon Kit Demo 3
Click video to play.
Available sizes
We can customize beyond these standard options. Contact us to find out how.